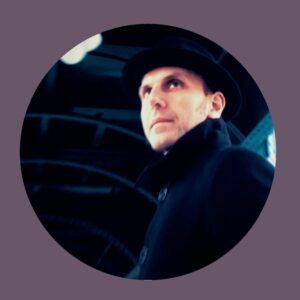 Andrija Pavlović (1980) was born in Belgrade, Serbia (former Yugoslavia) where he studied piano and finished his post-graduate studies in contemporary chamber music (piano duo) at the Faculty of Music Arts Belgrade. He continued with a master and Konzertexamen (KEX) studies at the Hochschule für Musik und Theater Rostock, Germany and PhD studies at the Faculty of Music Arts Belgrade. He worked as assistant professor at the Nova Academy of the Arts Belgrade and currently teaches at the Department of Scenic Design at the Faculty of Technical Sciences in Novi Sad, Serbia. He has taught and given masterclasses and workshops at the University of Cincinnati, the University of Illinois, Chicago, Goldsmith's University, London, the Hochschule für Musik und Theater Rostock, and NUS Singapore, among others. He is the cofounder, pianist and composer in the piano duo LP Duo ( www.lpduo.com ), named one of the 8 best piano duos at the biggest world competition for two pianos, Miami Dranoff Two Piano Competition, in 2008. From 2004, LP Duo won 30 international prizes and performed over 300
concerts in Europe, the USA and Asia at renowned venues including: Carnegie Hall New York, Kennedy Center Washington, Royal Danish Opera and Theater Copenhagen, and NUS University Singapore. LP Duo released 10 albums and are the cofounders and presenters of the pioneering art & science project "Quantum Music" ( www.quantummusic.org ), with partners including Oxford University, Ars Electronica Linz, and the Institute of Musicology SASA Belgrade. Together with a group of engineers and quantum physicists, LP Duo invented a new musical instrument – the Duality Portable Hybrid Piano. Their albums are released by Universal Music and their concerts are organized by IMG Artists London. From 2001-2005, Pavlović was the editor of music programs at Radio SKC Belgrade. In this period, he also started an active art career in the fields of performing and conceptual arts. He has exhibited his work at festivals and in galleries, including: April Meeting (SKC, Belgrade), Belgrade Summer Festival BELEF, Biennale of youth Vršac, Real Presence, SKC Gallery Belgrade, Remont Gallery Belgrade, Kapelica Gallery Ljubljana Slovenia, KCB Gallery Belgrade, PQ Praha (Czech Republic). He has composed music for theater shows, TV, animation movies, dance choreographies, and together with pianist Sonja Lončar from LP Duo, he is the cofounder of Keyboard Days Belgrade, a festival dedicated to new music, and the independent association New Art Center. In 2018, he created the performance 24 hours together with visual artist Sun Mandić. During this performance, they painted and performed music together without stopping for 24 hours (Nature & Art Park, Osečina, Serbia). He is the founder of music production company 4.33 and cofounder of Duality – company for production of musical instruments. . Pavlović released two solo projects and albums: Ola Horhe / Ola Horhe (retro futuristic synth music, 2010) and Andy Pavlov – Me and My Love on The Road to Honduras (piano solo, Universal Music, 2020). Together with singer Lidija Andonov and double bass player Greg Cohen he released an album: Lidija Andonov & Andy Pavlov: Mlad i Radostan – Homage to Yugoslav Music from the 80s and Beyond (2021). With the members of the music group Sixth June, he is establishing publishing platform for music and art Sweet Sensation. In the beginning of 2022 he spend three months as an Artist in Residence at Kavli Institute, TU Delft University (Netherlands), where he worked on the project ''Beyond Quantum Music" with quantum and bionano scientists. This resulted in several new compositions, performances and lectures.
Role in the Biennale 2022.
Jury of the Student Biennial, category: SCENE DESIGN IN NON-THEATRE PRACTICES
Sound designer: Main Exhibition