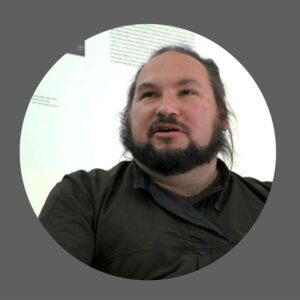 Damir Gamulin (Split, 1974) has been working as a professional designer and art director for about twenty years. During that time, he has had numerous collaborations with Croatian and foreign companies, associations and institutions, which led him to the international TDC NYC 2001 Award for graphic design, a ZGRAF9 honorary mention for multimedia design for the 2004 Motovun Film Festival, the HDD 040506 award for the general festival identity and promotional campaign for ZagrebDox 2006, the Croatian Designers Association (HDD) 0708 honorary mention for the visual identity of the 2008 Miroslav Kraljević Gallery, a ZGRAF 12 honorary diploma for Minus3 – the cultural shelter in Split 3 in 2017, as well as the HDD 1718 Grand Prize for Family Hotel Amarin. He received the Croatian Architects Association (UHA) Bernardo Bernardi Award, the 2013 Vladimir Nazor Award, and the 2014 Icograda Excellence Award 2014, together with Margita Grubiš, Igor Presečan and Ivana Žalac, for the design of the Labin City Library.
Damir Gamulin and Antun Sevšek independently, jointly or in different collaborations are also involved in research and shaping, through different media and types of assignments, primarily in product design, architecture and installation of exhibitions, with special thematic emphasis on public and cultural spaces. Gamulin and Sevšek collaborated on the Unfinished Modernization exhibition and publication in 2012. In 2013 they shaped the content and exhibition installation and edited the book on 20 years of spatial planning of the Zadar County together with Maroje Mrduljaš. For this project they received the UHA Neven Šegvić Award in 2016. The same year they completed the project of the visual identity, signalistics and exhibition of the Lipa Pamti Memorial Collection, based on the winning competition entry from 2013, which was subsequently awarded the HDD 1516 award, in the Complete Project category, in 2016, and the Grand Prix of the 52nd Zagreb Salon and the special prize of the Croatian Selection of the International Association of Art Critics (AICA) in 2018. For the installation of the exhibition If I Forget You… The Holocaust in Croatia 1941–1945: Final Destination Auschwitz, they received an award at the 22nd Salon of Architecture Novi Sad, in the category Interior, as well as the UHA Bernardo Bernardi Award.
Role at the 2022 Biennale
Participant in the International Symposium.