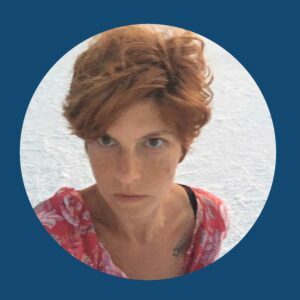 Mia David (Belgrade, 1974) is an architect, curator and set designer. Her main fields of work are contemporary visual art, performing arts, education, and cultural management. She graduated from the Faculty of Architecture in Belgrade and received her master's and doctoral degrees from the Scene Design group at the University of Arts in Belgrade.
She was a partner in architectural studios DSZ and Blok, the founder and editor-in-chief of Kvart magazine, and one of the founders of the non-governmental organisation Blokovi. She worked as a lecturer at the Faculty of Dramatic Arts in Belgrade. From 2010 to 2014, she worked as the acting director of the Cultural Centre of Belgrade. She is a member of the Serbian Chamber of Engineers, the Association of Architects of Belgrade, the Association of Architects of Novi Sad, NUNS, OISTAT and IKT.
Mia is the author of many projects in the fields of architecture, design, set design, and art, as well as newspaper articles published in various media. Berlin, New York, Vienna, Paris, Rennes, Sarajevo, Zagreb, Ljubljana, Frankfurt, Moscow, Trieste, Rome, Venice, and Prague are some of the cities she has exhibited in. She is the curator of numerous exhibitions, most important of which was the national performance of Serbia at the Prague Quadrennial of Performance Design and Space in 2015. She is the winner of many awards and recognitions, including the Biennial of Scene Design Award (2007), Joakim Vujić Award (2007), October Salon Special Award (2014) and the Gold Medal for Provoking a Dialogue (Prague Quadrennial 2015).
She is the author of radio shows Life as such (Radio B92), Life is where we are (Remarker media) and the web show Spaces of Freedom (Remarker media).
Since 2016, she has been running the Navigator gallery.
She works as an associate professor at the Faculty of Technical Sciences in Novi Sad.
Role in Biennale 2022.
director and art director; member of the program team;