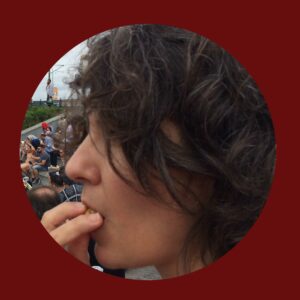 Tatjana Dadić Dinulović (Belgrade, SFRY, 1963) is a scene design theorist. She deals with
theoretical, curatorial and artistic work in the field of scene design. She graduated in English
Language and Literature from the Faculty of Philology in Belgrade. She received MA in Scene Design, MSc in Theory of Arts and Media and PhD in Scene Design from the University of Arts in Belgrade. She defended her PhD thesis in the field of interdisciplinary science at the University of Novi Sad. She is an author of two books: "Srbija: moj slučaj: nova evropska generacija" (Serbia: My Case: A New European Generation) (2008) and "Scenski dizajn kao umetnost" (Scene Design as Art) (2017). She published a large number of articles in scientific and professional journals, and translated more than a hundred articles in the fields of scene design, theatre and architecture. She exhibited her own scene design art works in Serbia, Montenegro, Bosnia and Herzegovina, Italy, the Czech Republic and China, including the works exhibited at the Venice Biennial of Architecture (2004) and Prague Quadrennial (2007). As a mentor and curator, she performed a large number of artistic works and exhibitions with her students in the field of scene design. She led the curatorial team of Serbia's Student Section that was awarded the Gold Medal at the Prague Quadrennial 2015 for Provoking a Dialogue. She was a Commissioner of Serbia's performance at the Prague Quadrennial of Performance Design and Space 2019 (with Lj. Miletić Abramović). She practiced rhythmic gymnastics at the "Radnički" sports society. She worked with the British Council in Belgrade. Today, she is a Full Professor of scene design at the Faculty of Technical Sciences in Novi Sad, where she is in charge of a series of artistic and theoretical subjects, as well as of the study programme of PhD Artistic Studies of Scene Design. She is the Head of the Art and Design Unit at the Department of Architecture.
Role in the Biennale 2022:
curator of Main Exhibition, (imaginary) Family Stories and Retalioring
editor of Scenlab talks